The value of seeing yourself in the pages
When the best books available for some Australian kids are flushed down the toilet, it's time to think.
Merrill did not have access to books at home while growing up. The things she managed to get in school do not reflect her identity as an Aboriginal Australian, nor her environment in Western Australia. Comic books like "The Phantom" made more of an impression on her, and were often recycled as toilet paper.
As a founding member of Magabala Books, Australia's leading Aboriginal publisher, Merrilee is fully aware of the need for contextually relevant books for readers.
"It can open doors to the future and it can also be fun – we just need to make sure our kids see themselves and their experiences in the books," She said.
Now, Merrill and her grandchildren are part of the movement to make this happen.
In collaboration with Library For All's Our Yarning, the first free digital library created by Aboriginal and Torres Strait Islander people, Merrilli has become the author of published children's books. Her first contribution to the collection, in collaboration with Collette Cox, explores the impact of littering on marine life near Broome.

Merrill's first book on our deer, which was released off the coast of Broome.
Photo: Library of all our spinning group
We wrote The Dreaded Net to educate our readers about the importance of caring for the state. We all need to do our part in caring for Mother Earth," She told us.
To her nine-year-old grandson MJ*who became a prolific book reviewer in our Ghazal library, had the pleasure of reading his grandmother's works.
"I felt so happy for her. I felt so happy to read her book too… I love the pictures and colors of sea animals… It made me want to go out more and go on adventures instead of sitting inside," He said.
The right kind of education
Education should help the child reach his fullest potential by developing his cognitive ability, as well as respecting his cultural identity and natural environment. This is not just a wish, but a basic human right enshrined in Article 29 of the United Nations Convention on the Rights of the Child (UNCRC).
Research from Library For All shows that children gain higher levels of literacy when they have access to 'mirror' books, those that reflect their life experience, as well as 'window' books that provide glimpses into other cultures and contexts. By helping to spread stories from authors like Merrilee, Our Yarning supports children's right to a quality education by improving their access to matching books that are critical to their development.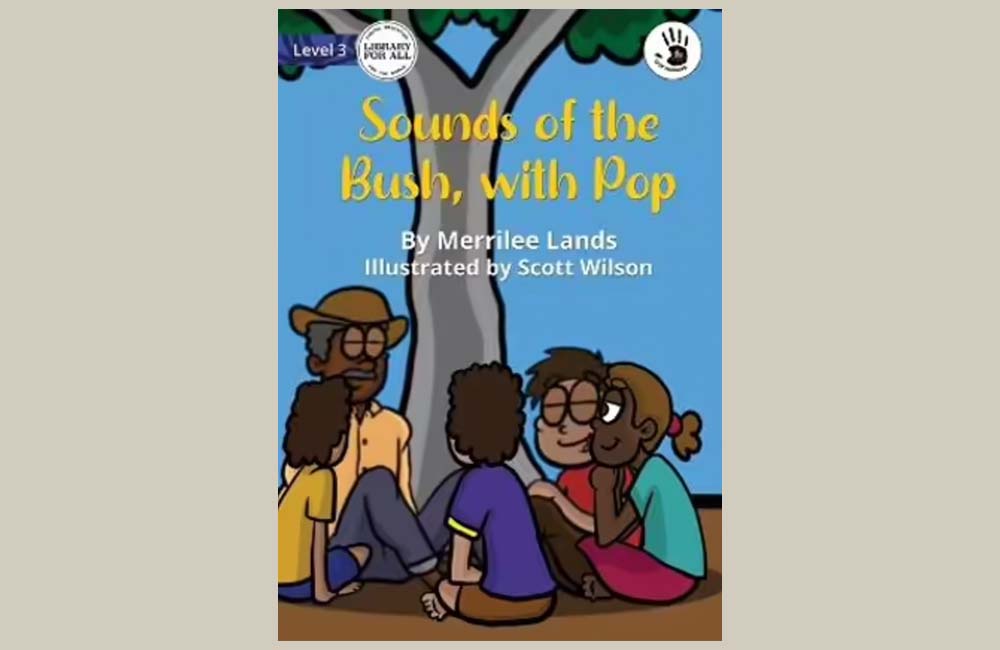 Merrilee's second book, Our Yarning, reflects the realities of children living in the Australian bush.
Photo: Library of all our spinning group
Since the success of The Dreaded Net, Merrill has written another digital library book called "Sounds of the Jungle" with pop music. The story, drawn by her son Scott Wilson, explores the rich soundscape of the Australian bush. By including her stories in the local environment, Merrill provides children with the opportunity to see themselves and their reality in the books they read.
"My favorite memory is the amazement at my grandchildren's faces and the discussion about books," Merrill said, "They pictured where we live very well and the grandmothers talked more about what they saw on the pages because they love hunting and fishing."
Dr. Julie Owen, cultural advisor for Our Yarning, says this kind of engagement builds toward their ultimate goal of improving the literacy of Aboriginal and Torres Strait Islander children.
"They struggle because they don't have the books to learn or some way to get them to love reading… [Our Yarning] looking at this aspect. When children go to school, they already have a love of learning and reading. It is easier for children to achieve, and for teachers to cope, " Dr. Owen said.
Just the beginning
The digital library has already helped create 60 original children's books in just six months, but it's only the beginning. With an ambitious goal of publishing 500 books and reaching 80,000 children within five years, Ghazalna strives to rewrite the narrative of representation in children's literature.
Meryl hopes the group will inspire "Our children's love of reading and a way for our children to find themselves in the pages and be proud of being the first people of this country."
This aspiration seems far from the days of recycling comics as toilet paper. From the words of her grandson, it is clear that this change is already underway.
"It was nice to see my kind of person in the books," MJ said.
* The name has been changed.
.