The Greenville County Republican Party wants the county council to investigate who ordered and placed a number of LGBTQ children's books in public libraries earlier this year.
The county also wants to ban books that mention LGBTQ topics from the children's and juvenile sections of county libraries.
The party's executive committee unanimously passed a resolution on 12 September calling on the provincial council to look into the matter. County Councilman Joe Dale said he plans to introduce the decision soon, once county employees have put it into the language and wording used in county binding decisions.
This topic is not on the council's agenda for September 20.
The resolution names a few children's book titles that it says have been found in county bookstores that promote "sex change and LGBTQ ideology for children in Greenville County."
The resolution also stipulated the party's position to "officially denounce any and all kinds of sexual indoctrination of children in government-funded schools and libraries."
The resolution names five specific titles for children's books as they are currently available in the library; "Twas the Night Before Pride," "My Shadow is Purple," "The Rainbow Parade," "I'm Not a Girl," and "My Own Way: Celebrating Sex."
GCGOP president Jeff Davis said party members have checked books from the library and plan to continue checking books to prevent them from being shown to children for them to see.
"We checked a bunch of them downstairs here at GCGOP headquarters," Davis said.
Davis said he did not know why anyone would oppose "denunciation of child sexual indoctrination" in publicly funded bookstores. He said it was not a ban on books because they can be available with parental consent in the adult section of the library but should not be "celebrated" and displayed in children's areas of the library.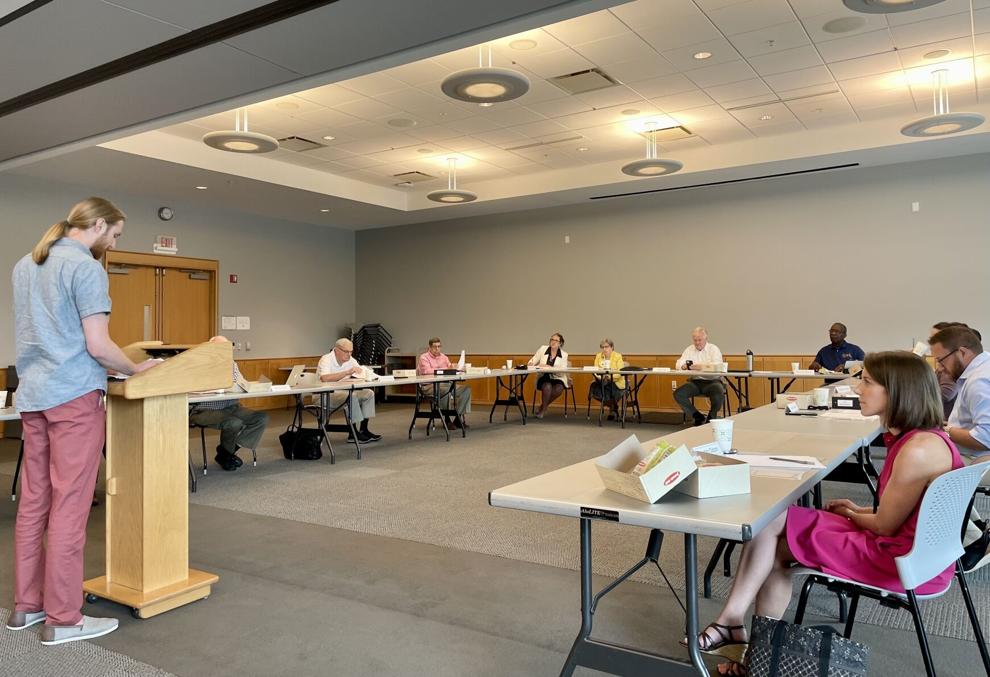 Susan Ward, president of PFLAG GVL, a support group for an LGBTQ family and ally, said she was appalled that GCGOP members feel they should have the final say on which books children can check out from the library.
"I trust highly educated librarians – people who have a passion for books and who understand how reading expands our horizons and helps children develop into well-rounded adults," Ward said.
She said the group she leads, PFLAG, has been serving LGBTQIA+ and LGBT families through support and education in Greenville for more than 30 years.
"Removing books that indicate LGBTQIA+ individuals and families from libraries does not make us disappear," Ward said.
PFLAG GVL issued a statement saying it condemned any attempts to "erase LGBTQIA+ from society through book bans, removal, or transfers. Limiting children's literature to those books that agree with it is doctrinal indoctrination. Naming a children's book illustrates same-sex parents." As 'extremely sexual' is the definition of gender. It is a mountain of hypocrisy that right-wing extremists dream of to drum up votes."
The group said that LGBT people contribute to the tax pool and should be represented in public.
"There are thousands of LGBTQIA+ children throughout our state, and thousands of children of LGBTQIA+ parents," PFLAG said. "These children should have unrestricted access to books that celebrate the beautiful diversity of humanity, and represent their families."
The local GOP call comes on the heels of the brief removal of Pride Month shows and their re-release at local bookstore branches in June. No one in the library system, including its director Beverly James or its current board members, will say who ordered the removal. Performances were restored after a popular protest.
Laura Baker, who resigned from the Greenville County Library System Board of Trustees over the issue and called for James and Chairman Alan Hill to resign, said the board has never voted to remove the displays.
Attributing the action to the board is a lie. I was not consulted. I had no voice in that decision. Who made the decision? Either the CEO and/or Chairman of Board of Directors ".
Baker said she resigned so that the county could appoint a member of the LGBTQ community to the board of directors. The Board interviewed candidates to fill the vacancy.
Greenville County Councilor Steve Shaw said the Library Board may consider canceling themed shows altogether, but no official action has been taken.
Greenville County Council appoints library system trustees and approves the library system budget, which is over $23 million for fiscal year 2023.
Dale said he doesn't want to spend taxpayer money on articles that promote LGBT topics. He said the majority of the library's board and director removed LGBTQ books from circulation earlier this summer as soon as they became aware of the material, though he said he did not believe the board took a vote.
The issue is emerging amid a push in South Carolina and across the country by some conservative politicians and religious groups opposing LGBTQ topics presented in books in schools and public libraries. SC Senator Josh Kimbrel of Spartanburg called in August for books on "gender identity" to be restricted to adult sections of county libraries. Anderson County Republicans passed a resolution similar to Grenfell's in August.