SIOUX CENTER — Two staff members at Sioux Center Christian School have turned notes from a bus trip home into an adventurous children's picture book, released in October.
Through the song "Beloved," written by Jill Van Solen and Laurie DeJonge and illustrated by Laurie DeJonge, readers are invited to join elementary school-age Maggie as she discovers what it means to be called into God's story.
"Everyone is loved or loved by God," said Van Solen, director of faculty development at Sioux Christian Center. "It is the profound hope within the Teaching for Transformation framework, of which our school is a part, that students discover their place in God's epic love story for this world."
But how can this message be shared in a way that is easy for young children to understand?
That's the question Van Solen and another kindergarten teacher pondered about four years ago on the bus ride home after a day of collaborating with Sioux Falls Christian School staff.
said Van Solen, who has held other positions in past years at the Christian school, including being the class teacher and the school librarian. She is also a mother of three children.
"I very much hope to help teachers nurture their continued love of learning and growth," said Van Solen. "Writing a story felt like a way to give teachers and parents a tool to show students how they can see themselves as part of the big narrative of God's big story and that God has a purpose and plans for them in that big story."
A lot of meetings and revisions along the way led to the development of the story, yet Van Solen said it didn't feel complete without any visuals. That changed after DeJong, a fifth-to-eighth grade art teacher, spoke at a school church about what it means to her to be in God's image and be a creator.
"Hearing her talk, knowing that she had such a great passion for art and students—I felt a natural fit to create art for this book," said Van Solen. "Laurie has taken this book from clip art to exquisite. Her eye for detail is very evident in this book."
Getting close to illustrating a children's book has filled a dream DeJong has dreamed of for nearly a decade.
"I have a stack of books on how to draw a children's book," she said. "It's information I've been compiling for over years, but the main focus has been on life with four kids and education. I'd always hoped to illustrate a book someday, so when the idea for an illustration for this book was presented to me, I knew I wanted to give it a try."
DeJong drew inspiration from her four children, her adventures, God's creatures, and her own backyard to create the illustrations for this book. In fact, the book's main character Maggie is specifically inspired by DeJong's daughter, Mika.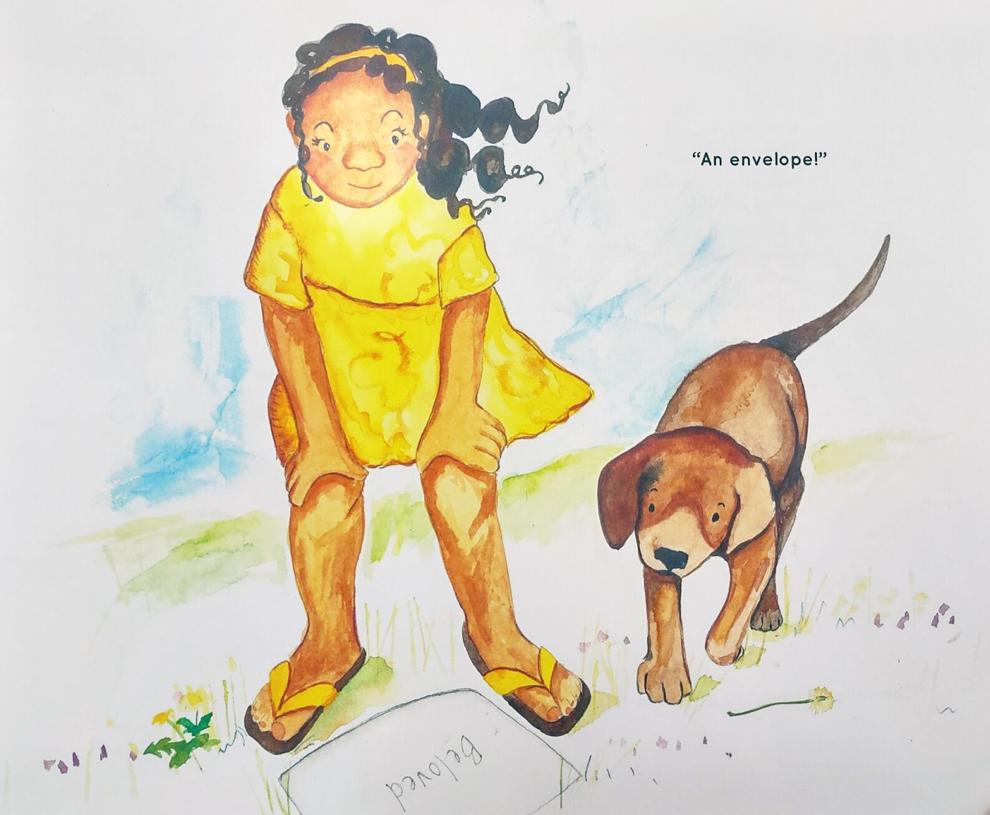 "My daughter was about the little girl age we had in mind for the book, so I actually had my daughter take pictures doing different activities because the important thing in a children's book is to show action, movement, and life in a character," DeJong said.
In Springtime, DeJong's illustrations help show the passage of time as the character reflects on her personal calling from God in the story along with her discovery of a caterpillar and its growth and transformation into a butterfly.
Thanks to her son's interest in insects, there were a few caterpillars in DeJong's house that she watched morph, giving her personal notes that she could incorporate into the illustrations.
"It was so flattering that so many of my family were part of the inspiration for the illustrations, and I feel that's why they're so well illustrated — because they're original," said DeJong. "As an artist, you make what you know. This book felt so natural to me because I know these things because I lived through these things."
Once the painted images were complete, the duo invited other Christian school staff and a few community members to review the book's pages for comment before contacting Dordt Press for publication. The book was officially released in the first week of October.
"The timing is really great," said DeJong. "We had the opportunity to participate with educators at the fall conference, and having a book released at this time of year provides an option for people looking to bless others with a gift. My prayer is that this story will be a blessing for families."
"And our names might be on it, but this was really a team effort; there were so many different voices sharing input along the way to writing this latest book," Van Solen said. "God is so good."
.